Georgia Gwinnett College graduate learns to embrace change, earns IT degree
May 16, 2023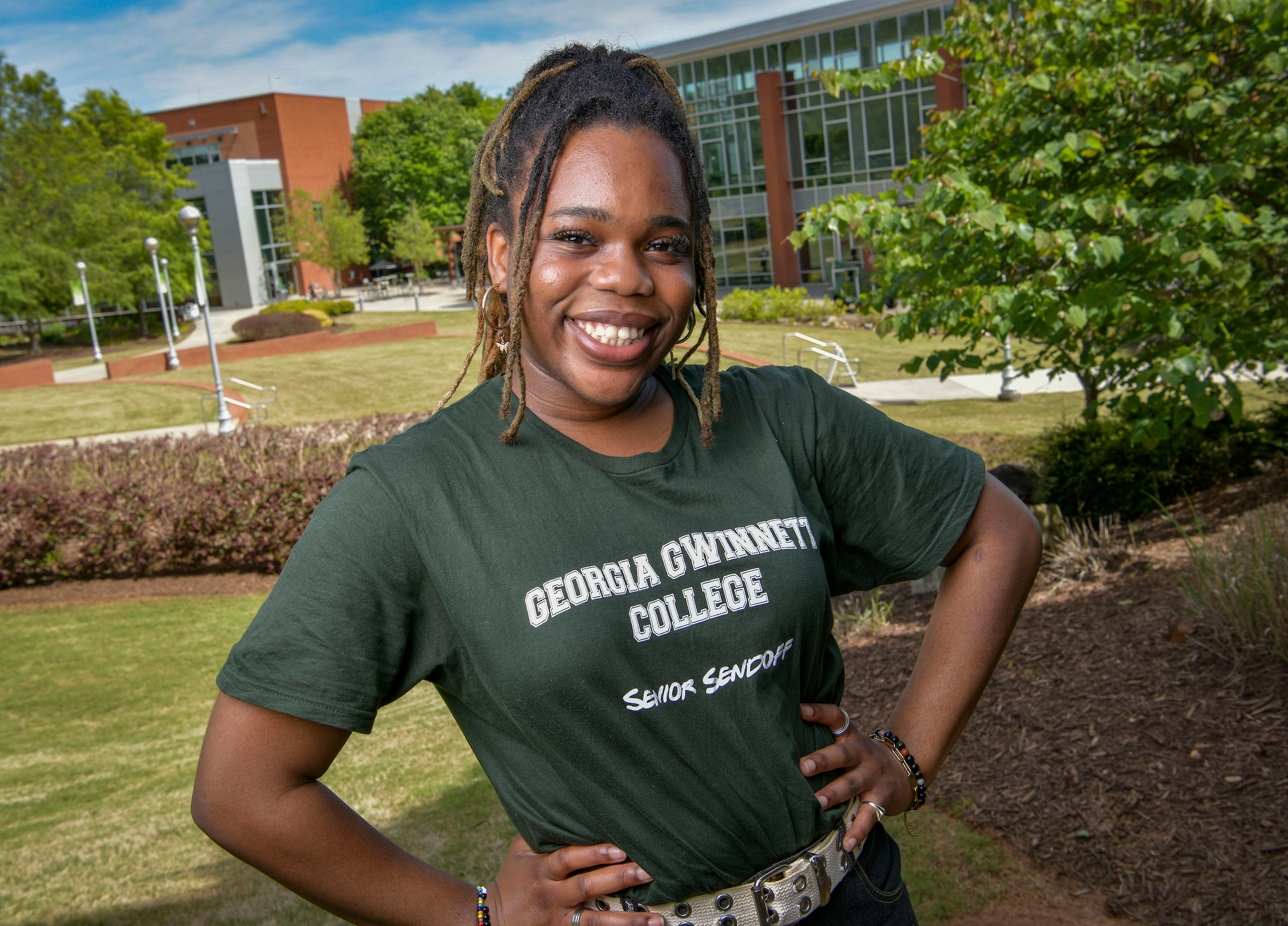 When she was a young girl growing up in Nigeria, Chenanniah Mac-Cephas wanted to be one of the youngest lawyers ever to pass the bar exam.
"That's what my dad and I would talk about, and that was what I thought at the time would bring me financial freedom," said Mac-Cephas. "Well, financial freedom in the sense of what a nine-year-old thought it was."
She was on the right track to accomplishing that through much of her youth. Her parents enrolled her in Accelerated Christian Education (ACE) school, and she exceeded the expected goals so much that she was able to skip the third grade.
"I was ecstatic," recalled Mac-Cephas. "I was only seven or eight at the time, but even though I was young, I had so many plans and aspirations. But I soon realized that plans don't stand up when change pays a visit."
When she was 10, her family moved from Nigeria to Maryland, and then to Georgia a year later. Despite the challenges of moving to a new country and assimilating into a new culture, she never lost her ambitious work ethic, working at home while the transition was happening.
Her parents found an ACE school in Maryland and enrolled her, but when she started classes, she was told that the extra work she'd done to skip another grade didn't count in the American system. She would have to stay in sixth grade instead of jumping to seventh.
"This news was devastating. How was I supposed to graduate early? How was I supposed to be the youngest lawyer ever? How was I supposed to achieve my dreams?" said Mac-Cephas. "A year later, my family was packing up and moving to Georgia, and I took this as my opportunity to take summer classes so that I could skip eighth grade and jump right into ninth. I was determined."
She started high school when she was 12 and graduated at 16.
Mac-Cephas was still fixated on attending law school and enrolled in Georgia Gwinnett College (GGC) for her undergraduate studies because it was close to home and affordable. She planned to transfer out after two years, but once again, life had change in store for her that she couldn't see coming.
Her goal was to become a patent law attorney, which, much to her dismay, required a background in science. She was not fond of chemistry, biology or physics, so she chose computer science. That seemingly innocuous decision would alter her life path dramatically. After only a few classes, she was hooked on information technology (IT).
Suddenly, becoming a lawyer wasn't her number-one goal anymore.
Mac-Cephas credits her professors at GGC for inspiring her to pursue a career in IT, particularly one of her advisors, Dr. Hyesung Park, associate professor of IT.
"Dr. Park was such a great help to me," said Mac-Cephas. "I wouldn't be where I am today without the guidance and support of people like her in my life."
Mac-Cephas graduated in May from GGC with a Bachelor of Science in IT with a concentration in software development and a minor in film. She said she's come to see unforeseen changes as part of what makes life great.
"Change is not your enemy or a villain," she said. "You will end up right where you belong despite any uncertainty you may feel. It is okay for plans to change because on the other side of change is opportunity."
Mac-Cephas is now working as a software developer. She still intends to pursue a law degree and hopes to produce short films.