Georgia Gwinnett College graduates more than 650 students who will turn challenges into opportunities
May 11, 2023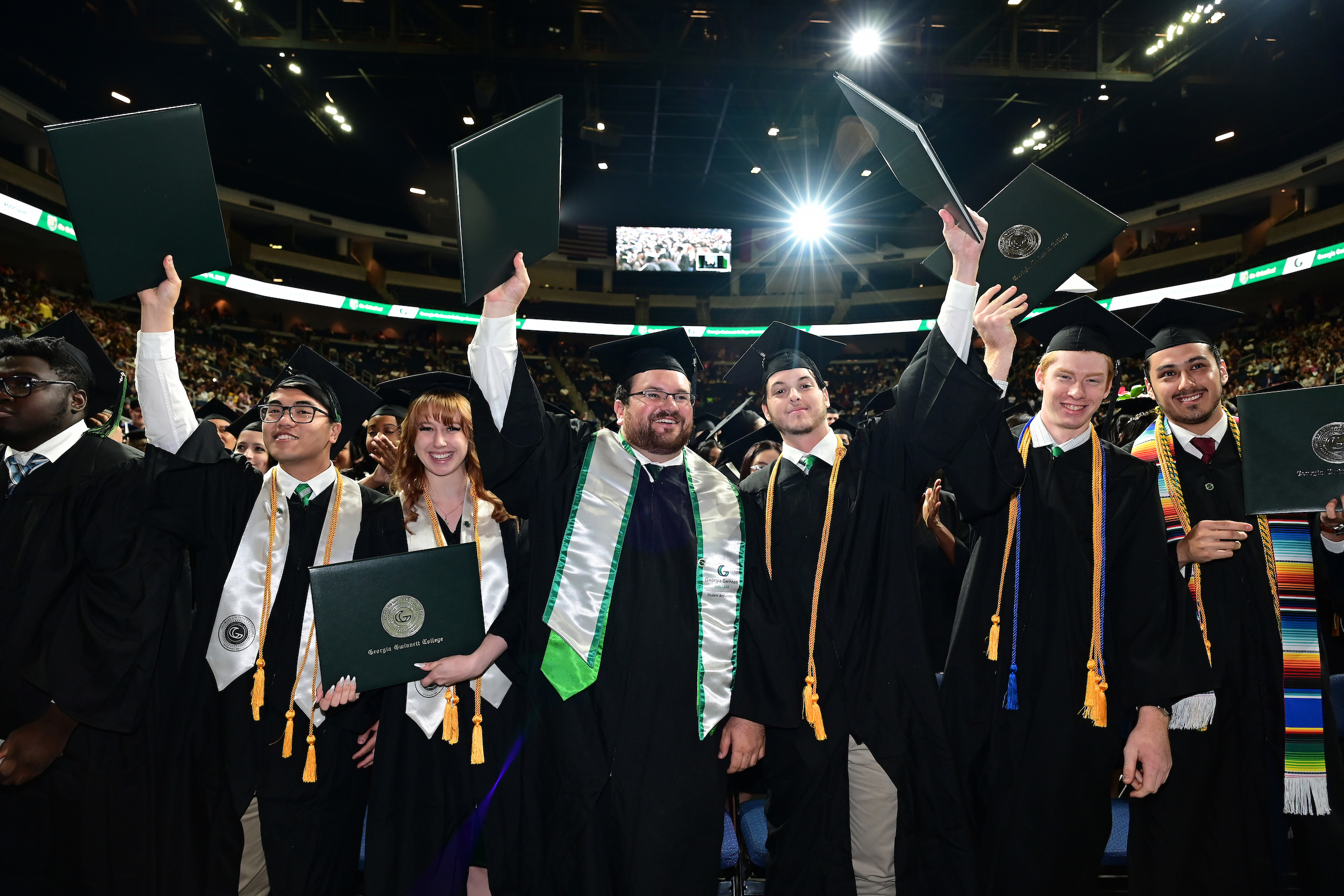 There was an air of excitement this morning when more than 650 Georgia Gwinnett College (GGC) students turned the tassels on their graduation caps at the college's spring 2023 commencement.
Many of them went through challenges to cross the finish line of their college career. That fact was not lost on commencement speaker Dr. J. Marshall Shepherd, who spoke to students about turning challenges into opportunities. Shepherd, an international expert in weather and climate, talked about his experiences as an African American raised by a single mother in Cherokee County, who went on to work for NASA, was elected to the National Academy of Science, the National Academy of Engineering, and the American Academy of Arts and Sciences in the same year, hosted a show on the Weather Channel and served as advisor to White House officials.
During his speech, Shepherd shared with students that their college degrees provide access for a "bigger and better future" and challenged them to use their talents for a greater purpose.
"Our society needs contributions from everyone," he said. "What mantle will you take up for the betterment of our society and the world in general?"
Commencement student speaker Alexis McMillian knows full well the concept of turning challenges into opportunities. The Cinema and Media Arts Production (CMAP) major spent the first part of her life in foster care. Like pages out of a movie script, McMillian's life began with a rewrite when she was adopted by a supportive family when she was three. Her new family provided her with the love, encouragement and inspiration to pursue success in and out of the classroom. Other rewrites, she said, came as she faced a global pandemic, worked two jobs and spent countless nights planning, producing and editing films for class. Today, McMillian, who is just 20 years old, graduated Summa Cum Laude with a 4.0 average.
"Never forget that you have the power to rewrite your story – as many times as it takes – for you to fulfill all your hopes and dreams," she advised the graduating class.
Sam Kaplan, 72, fulfilled his hopes and dreams as he walked across the stage to receive his diploma. The last time Kaplan, a CMAP major, walked across a stage was in 1969 when he graduated from high school in Savannah.
"The best part of this is that my 99-year-old mother was in the audience," said Kaplan. "I'm so happy that she was able to watch me graduate from college."
Other highlights of the day included recognitions of the first graduates of GGC's new academic programs, including the college's Bachelor of Science in health science with concentrations in patient navigation and public health; the Bachelor of Science in management information systems; and the Associate in Nexus in professional editing film and television.
"Everyone's path to get here today has been different, but one thing you have in common is that you are all winners and overcomers," said Dr. Jann L. Joseph, GGC's president. "You are already exceptional, and we are incredibly proud of your accomplishments and excited about your future."
View and download 2023 spring commencement gallery photos.
View and download 2023 spring commencement videos.