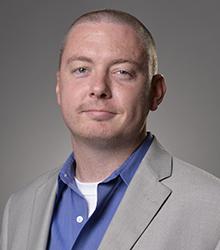 Dr. Philip Wesley Routon
Associate Professor of Economics, Economics, Supply Chain Management and Marketing Department Chair
Office phone
Email Address
Biography
Dr. P. Wesley (Wes) Routon is an applied microeconomist with broad research interests, though much of his work falls within labor and education economics. He is particularly interested in the economics of higher education.
Routon has been teaching economics and statistics since 2009 and has taught at Georgia Gwinnett College since 2014. He enjoys teaching because it is fun and challenging, and he believes everyone can benefit from the economic way of thinking and understanding statistics. Having taken courses at more than seven different institutions and studied abroad in both Belgium and Brazil, above all he encourages students to seek new ideas in as many places as possible. His current courses include Business Research Methods, Labor Economics, International Economics, Statistical Analysis for Business, Quantitative Analysis for Business, Principles of Microeconomics, Principles of Macroeconomics, and Introduction to Economics.
Routon is also the founder and faculty advisor for GGC's chapter of Omicron Delta Epsilon, the international honor society for economics.
Education
Doctorate – economics – Middle Tennessee State University
Master's – economics – Middle Tennessee State University
Master's – applied economics – The University of Memphis
Bachelor's – economics – Tennessee Tech University
Bachelor's – world cultures and business – Tennessee Tech University
Academic Interests
Applied microeconomics
Economics of education
Labor economics