School of Science and Technology
Bachelor of Science: Exercise Science
Promote a Greater Quality of Life
Fitness continues to be at the forefront of today's focus on health. Increased interest in sports, physical fitness, exercise and wellness has produced diverse career options.
Learn how bodies work and prepare for an occupation that promotes quality of life improvements for individuals and society.
Access
Access to bachelor's degrees for more people, where potential trumps privilege, and tenacity and commitment matter more than one's academic past. Honors Program? We've got you covered there, too.
Attentive
Attentive education that focuses on your success with faculty mentorships that linger after graduation. Standards are high, but you've got this with access to tutoring and professors who are engaged in your success.
Affordable
GGC's innovative practices, caring culture and affordable tuition educate today's careers, and change the future for students at all levels, of all ages, from all walks of life.
Ready. Set. Become a Grizzly.
Exercise Science Concentrations
This concentration is for students interested in dynamics of exercise at sub-cellular levels. Students in this program will apply the principles of exercise science to performing testing and interpreting physiological data for indicated and contraindicated exercise, as well as modifying exercise prescriptions and activity schedules for various populations and conditions.
This concentration is for students interested in exercise and health promotion to assess, design, implement and modify safe and effective behaviors to improve health in both healthy and diseased populations. This program's concepts map to the concepts stressed for certification for a Physical Activity in Public Health Specialist.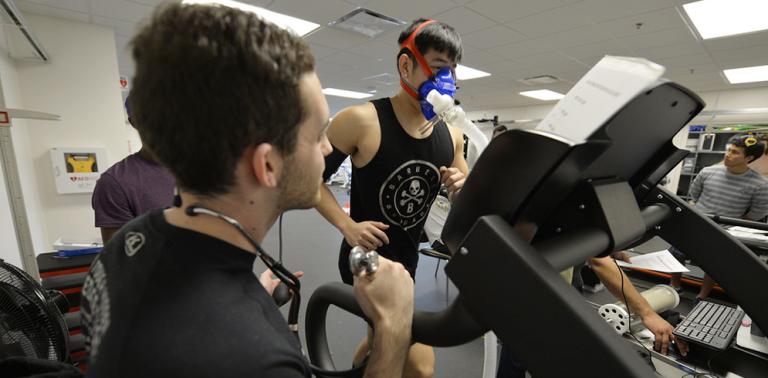 Engaged Learning
GGC fosters partnerships with local community organizations to provide learning opportunities and tangible experiences that move portfolios to the top of the employment pile.
Student/faculty research collaborations
Academic conference presentations
Internships
Service learning
GGC also creates global engagement through internationalized i‑courses and study abroad opportunities.
Careers, Grad School and Certification Prep
Personal or corporate fitness trainer
Health care professionals in cardiovascular/pulmonary rehabilitation programs
Consultants for research, public health and other clinical and non-clinical venues
Physical or occupational therapists
Allied health and medicine (PA, MD, OT, PT, cardiac/pulmonary rehab, public health specialist, etc.)
Certified Strength and Conditioning Specialist with the National Strength and Conditioning Association
Personal Trainer and Exercise Physiologist with the American College of Sports Medicine
Clinical and specialty certifications with ACSM
Certified Clinical Exercise Physiologist
Certified Cancer Exercise Trainer (CET)
ACSM/NCHPAD Certified Inclusive Fitness Trainer (CIFT)
ACSM/NPAS Physical Activity in Public Health Specialist (PAPHS)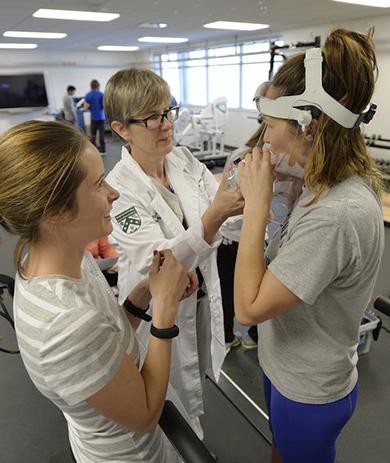 Health Care, Engineering Pre-advising and Articulation Agreements
Interested in pursuing a graduate program or career in health care or engineering? Gain a competitive advantage with course choices, mentoring and research opportunities that start during your GGC freshman year.
Advising, advising checklists and articulation agreements extend to opportunities to earn associates, master's and doctorate degrees from other institutions.
Minors, Certificates, Certifications
Minors, certificates and certifications add value and enhance degrees for enrolled degree-seeking students. Learn more about available professional certificate programs for non-degree seeking students.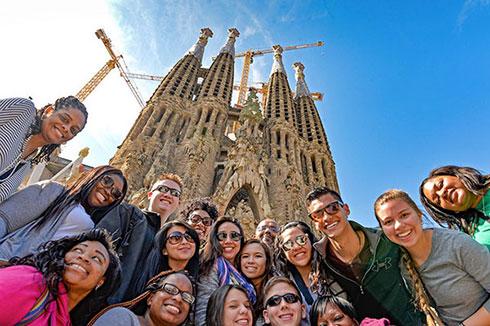 Get Involved
Challenge. Question. Collaborate. Contribute.
Unique to GGC's focus on student engagement, faculty invite students at all levels – including freshmen – to collaborate on research projects, conference presentations, even co-authoring articles published in academic journals.